Gliss Liquid Silk Shampoo
Hot
January 11, 2014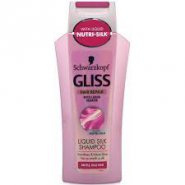 Product Info
Where to Buy:
RSP R52.99 (250ml), R66.99 (400ml) most supermarkets
Put the shine back into lacklustre locks with the number one silk care for your hair, Schwarzkopf Gliss Liquid Silk, a leading hair care innovation with Liquid Nutri Silk, which now shimmers with an enhanced formula for ultimate smoothness and intensive gloss.

The newly improved, super effective Gliss Liquid Silk is enriched with actual liquified silk components that give the hair ultra shine whilst leaving it smooth as silk and easy to manage. It also radiates with a stylish new rosy pose and an altogether more striking, glimmering pink label.

The range is fuelled with a super nourishing, technologically advanced Liquid Hair-Repair formula – a world class innovation from Schwarzkopf – which contains a combination of CR-Keratin and SR-Keratin-Lipid. It is expertly designed to enrich and repair with liquid hair components – both on the hair surface and within the hair structure – whilst it provides tangible smoothness as well as maximum shine, without weighing down the hair.

With the comprehensive range of Schwarzkopf Gliss Liquid Silk products, dull, brittle hair bounces back into healthy, silky strands that look and smell gorgeous.
This must-have foursome transforms a frazzled, frizzy hairdo into hair like silk.

For celebrity silky, shiny, spent-a-fortune-on-your-hair look, get the Schwarzkopf Gliss Liquid Silk range at your nearest retail store, countrywide. It is sheer silk in a bottle – you won't even need that flat iron fix.