Dove Advanced Hair Series Pure Care Dry Oil Shampoo
Hot
October 08, 2015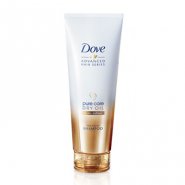 Product Info
Where to Buy:
Available from Dis-chem, Clicks and Pick and Pay stores Price: Shampoo 250ml - R79.99
Dove Hair is all about long term care for your hair. This advanced hair series goes beyond deep nourishment, unlocking formulas blended with selected ingredients, providing ultimate nourishing solutions on a daily basis for all hair type needs.
Dove pure care dry oil shampoo is aimed at Dry hair and is infused with African macadamia oil. It cleanses hair and adds shine.