Colab Dry Shampoo Tropical Fragrance
Hot
December 05, 2018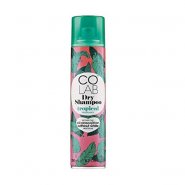 Product Info
Where to Buy
Available at Clicks stores countrywide. RSP: R79.95
Colab Dry Shampoo Fragrance lies in between the art of hairdressing and the science of formulation. It is a specially formulated dry shampoo that provides oil absorption and leaves no white residue on hair.
The tropical fragrance provides a sunset sweet papaya and pineapple scent.
User reviews
There are no user reviews for this listing.