Colab Dry Shampoo Original Fragrance
Hot
December 05, 2018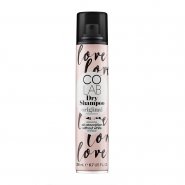 Product Info
Where to Buy
Available at Clicks stores countrywide. RSP: R79.95
Colab Dry Shampoo Original Fragrance lies in between the art of hairdressing and the science of formulation. It is a specially formulated dry shampoo that provides oil absorption and leaves no white residue on hair.
The original fragrance provides an effortlessly cool, bergamot and rose scent.
User reviews
There are no user reviews for this listing.