Matrix Biolage Hydratherpie
Hot
September 01, 2010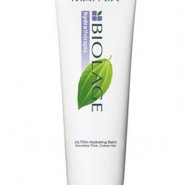 This is a salon-brand haircare range available in South Africa. It's a range whithin the popular Matrix range that has a focus on natural ingerdients - hence the name. I am reviewing the hydratherapie but there are various other forms of "therapies" too including one for coloured/treated hair.
User reviews
Matrix Biolage Keratindose
Keratin protein is found in the flat cells of your hair, so using a keratin protein helps rebuild lost keratin

Benefits:
• Prevents drying out
• Locks in moisture
• Results in less breakage & split ends
• Provides UV protection
• Keeps Keratin treatment locked in for longer

The only con is that your hair feels weighed down and flat after use, but if your hair is very dry and damaged it's the perfect product to help reduce and restore damaged hair.
Product Recommendation
Would you recommend this product to someone else?
Yes
Would you repurchase this product?
No

Salon worthy at store prices
This pearlescent balm textured product delivers softness and moisture to thirsty heat styled hair from the first use.
It comes in a generous sized tube that will last a long time.
While its delicate scent is not long lasting at all its budget friendly and perfect for family use
Product Recommendation
Would you recommend this product to someone else?
Yes
Would you repurchase this product?
Yes
Soft and manageable hair
I have battled with my hair for as long as I can remember. It is very thick, it's coarse and it grows fast. I know that a lot of people would get irritated with me for complaining about those particular qualities (my hiardresser definately does) but the problem is that I am lazy at styling and hold my hairdryer too close to the strands to speed up the process and I flat-iron too often. So, my hair is often dry and unmanageable.

I have tried quite a few salon brands (Redken, Kerastace, L'Oreal, Goldwell, Paul Mitchell) and while they were good, the results didnt justify the price tag. Biolage Hydratherapie is a little bit cheaper than the rest of the salon brands (a good size conditioner is R140) and the results are virtually the same.

The "Conditioning Balm" is really thick and hair is softer and smoother instantly. The shampoo has a thick and 'pearly' formula so that's always a good indication of moisturising properties. The range has quite a clean smell which is light on the nose. I have been using them for about 4 months and havent noticed much product build-up.