L'Oreal Elvive Fibrology Thickness Creation Double Creation
Hot
May 19, 2014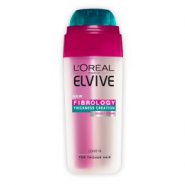 A breakthrough in the science of hair, L'Oréal Laboratories have created L'Oreal Elvive Fibrology Thickness Creation Double Creation, proven to give long-lasting thickness wash after wash. Hair looks & feels thicker, with visible body & bounce.
User reviews
L'Oreal Elvive fibrology thickness creation serum
This is truly a very clever invention from L'Oreal.. A serum that visibly thickens hair, strand by strand. I've been using this for less than 2 weeks now, mostly on dry hair, it can be used on Wet hair as well.

I don't have thin hair but I did notice that my hair isn't as thick as it used to be..so I got this and put it to the test. It has passed with flying colors.. My hair looks and feels thicker, the serum doesn't make my hair look oily and the shine it gives off is great,smells awesome too!

I would really recommend this for those of you who have thin or thinning hair.. It really does work.

Product Recommendation
Would you recommend this product to someone else?
Yes
Would you repurchase this product?
Yes

Was this review helpful to you?
L'Oreal Elvive Fibrology Thickness Creation Double Creation
This is just absolutely FABULOUS!!! FINALLY LOreal has created a new molecule that penetrates inside the hair, expanding strands from within.

I have to say that I am blessed with beautiful hair, however I am always looking for ways to keep my hair in the perfect condition. SO when I heard about this revolutionary Fibrology Thickness Creation- Double Serum I just had to get my hands (and hair) on it!

You can use it straight after you have washed your hair (ie: wet hair) or dry hair. I like to use it on my dry hair and mainly on the tips as this is where I feel I need more thickness.

After 2 weeks of using this product, I am so in love! My hair not only radiates with shine but it looks so much fuller on the ends and healthier. The smell is BEAUTIFUL- i've had a few people ask me what is that gorgeous smell as I walk past. Yip it's my hair ladies!

I strongly suggest you go out and get this product if you also desire thicker and more beautiful hair.

Here are some more benefits:

- Penetrates deep within the fibre

- Expands & increases the diameter of each hair

- Remains in the fibre for a long-lasting, cumulative effect

By far one of my favourite products of the moment!
Was this review helpful to you?