Enliven Fruits extracts hair conditioner (Vanilla and Coconut)
Hot
June 23, 2014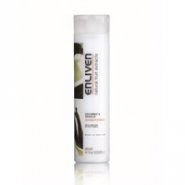 Product Info
Where to Buy
Available at most checkers and checkers Hyper.
Long Bottle 900ml , great white conditioner with a scent of coconut and vanilla.
User reviews
Enliven a hidden treasure.
I have recently discovered Enliven Fruit Extracts hair conditioner at Checkers , while shopping I was a bit short to buy my usual hair conditioner and saw the bottle of Enliven Coconut and Vanilla Hair conditioner on the shelf a bit sceptical of fruit infused conditioners I decided to give it a try and at only R20.00 for a bottle of 900ml , it was very worth it. This a really a hidden treasure with a great fragrance as well as a smooth texture , once I use it on my hair I was in love , after a week my hair was clean and light as well as in great condition. This product gets a thumbs up from me.
Was this review helpful to you?