Davines NOUNOU pak
Hot
November 22, 2010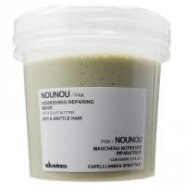 NOUNOU pak comes in a 250ml tub, and costs R235. It is available only at Carlton Hair salons. It contains olive butter and cherry oil-which helps to moisturise the hair and adds natural body. (What girl doesn't want natural body!) The consisitency of the pak is very thick, so you dont have to use a lot of product.
User reviews
Promised natural body...hair fell out instead.
I purchased the Davines Nounou pak after having a treatment done on my thick hair. I was told to use the pak once a week in conjunction with the conditioner and shampoo...I did so for two weeks until my hair started drastically falling out. I only realised it after my hairdresser pointed it out and I stopped using the products. I knew it must have been the products because after I switched back to my normal shampoo, my hair did not fall out .My hair is now considerably thinner and less and I'm on daily vitamins to rectify the situation. Maybe it was just my type of hair that had reacted, but I would personally not recommend this product to anyone. It is also quite expensive.
Product Recommendation
Would you recommend this product to someone else?
No
Would you repurchase this product?
No
My # 1 hair mask
Davines NouNou replenishing mask/pak was created in Italy for those of us who wants to restore health and shine to damaged/ dry and brittle hair. Contains natural Olive Oil and botanical ingredients. It does what it claims to do: restores, smooths, adds shine and moisturizes.
Davines NOUNOU pak for dry and brittle hair
I LOOOOOVE this product! You have to apply it to towel dried hair and leave it on your hair for 10 minutes. I applied it and left it on for an hour, and after i rinsed the product my hair felt so soft! I have terrible split ends, and I can see results as the health of my hair improves. Iv'e been using the product for 2 months now, and my hair is really starting to look great again.