Dark and Lovely® Colour Intensity
Hot
October 20, 2015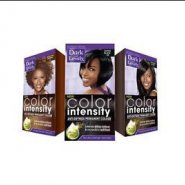 Product Info
Where to Buy
R27.95 from Clicks and Dischem stores
Dark and Lovely's® Intense Colour meets intense moisture. Available in an assortment of colours, the Dark and Lovely Colour Intensity Anti-Dryness Permanent Colour is a non-drip cream gel that gives your hair an intense permanent colour that shines and is soft to the touch. It all contains Olive Oil to nourish your hair.
User reviews
Dark and Lovely Colour Intensity
I used this dye on my wig/weave and the colour wasnt as prominent as i anticipated. It looked like i needed to bleach it for the colour to be prominent
Product Recommendation
Would you recommend this product to someone else?
Yes
Would you repurchase this product?
Yes
Was this review helpful to you?