Dior J'adore Hair Mist
Hot
October 10, 2013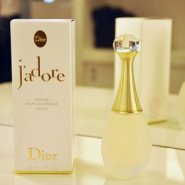 Product Info
Where to Buy
I purchased mine from African Sales Company, but you can purchase at the Sandton City Edgars.
A wonderful hair mist which gives your hair a glow as well a really really nice scent. I think of it as perfume for my hair.
User reviews
Dior J'adore Hair Mist
Let me first start with the price. I purchased mine for quite a bargain at R100, but the retail price for the Dior J'adore Hair Mist is roughly R400.

The product comes in a uniquely shaped bottle with a spritzer. The bottle is matte with gold highights and comes in a box of the same with gold writing.

The product is virtually weightless and does not leave your hair looking any different from when you styled it, so it is perfect even for on the go.

It is also infused with Ylang-Ylang essential oil which enhances the look of your hair by adding extra shine while keeping the freshness of your just washed hair.

The best part of this product is that is lightly frangrances your hair with a really nice soft scent of the signature Dior J'adore scent.

All you need is one spritz of this and you are good to go. The scent lasts the entire day in your hair and even though it contains essential oil of Ylang-Ylang, it does not make your hair oily.

I would recommend to any one who would like fresh scented hair all day, everyday.
Was this review helpful to you?