Shiniest hair
Hot
September 10, 2012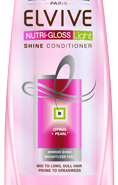 Product Info
Where to Buy:
Retail stores, supermarkets.
To revive your hair's shine, L'Oréal has created Nutri-Gloss Light with Pearl Protein*+ Citrus.
User reviews
It gives hair and amazing glossy and shiny look which is a great thing that I like about the product. The scent of the product is also so devine. It smells so fresh and floral.
It really does add a great shine to my hair. It is good for me for winter, but for summer I have to use a moisturising condtioner. Love the scent of this range as well
With this conditioner my hair was more glossy.It makes my colour more radiant. This is the best conditioner i have ever used and i would recomend it to all my friends if they weree having trouble with hair.
the price is perfect, especially for what it does.