Nature Box Apricot Conditioner 385ml
Hot
June 03, 2020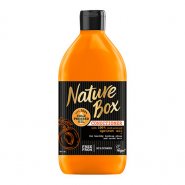 Product Info
Where to Buy
Nature Box Conditioner 385ml R119.99 Available from Dischem, PnP, Clicks, Checkers and Takealot.
Unsaturated fatty acids and vitamin A in apricot oil create a natural protective barrier for the skin.
Each variant contains cold-pressed oils that are neither refined nor processed, meaning they're bursting with valuable vitamins, like A, B, C, D, and E, as well as healthy fatty acids and antioxidants.
Nature Box's cold-pressed oils protect the skin from drying out, whilst nourishing and refining to leave both skin and hair touchably soft. What's more is they're also totally free from silicones, artificial colours, sulfates, and parabens – leaving you with beautiful skin and hair, naturally!
Their tried-and-tested formula ensures that hair and skin are protected and treated by an almost invisible film of cold-pressed oils – no grease, no worries. And you can use their products with peace at heart – Nature Box is dedicated to creating sustainably and ethically so you can experience the power of Beauty Positivity: Knowing you are doing something good for yourself and the world's future.
Get yours nationwide from Dischem, PnP, Clicks, Checkers and Takealot.
User reviews
Conditoner Review for the apricot variant by @Nicoletylerblog
A little definitely went a long way ,and me being usually quite heavy handed with the products I use for my curls, I must say that I am surprised that I didn't have to use much to coat my curls.I quite liked the consistency of the conditioner ,it was not too thin nor too thick.It was just the right consistency.I loved the feel of my hair after using it,it always left my hair feeling super soft. I've noticed as well that my hair growth and curl definition has improved a lot. My mom even complimented me on how great my curls have been looking ,and if the boss lady approves you know the product is a hit and how good it is.
Product Recommendation
Would you recommend this product to someone else?
Yes
Would you repurchase this product?
Yes
Was this review helpful to you?