How to: Hair Growth
Hot
April 28, 2014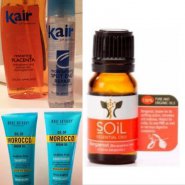 Product Info
Where to Buy:
Welness Warehouse, Dischem, Clicks
These are the onlg products you need for fast hair growth!
User reviews
Fast hair growth!
Ladies I have been growing my hair for as long as I can remember. I was then given some valuable tips on a few products that aren't too pricey and work well at hair growth and keeping it in good condition so you wont need many trims as your split ends will be in check!

Here you go:
1) Bergamont oil - add a few drops in your shampoo you will notice a difference in 3weeks. This can be found at wellness warehouse

2) Marc Anthony Moroccon Oil Conditioner - use this as a treatment if you want to save your buck if money isn't an issue use the shampoo & conditioner whenever you wash your hair.

3) Kair Placenta Spray - Just a couple of sprays on towel dry hair before combing

4) Kair split end serum - Now I have quite oily hair so I only use this in my ends but I have been told massaged into the roots as well as ends is really good for the hair shaft as well as the dry ends.

All I can say is give it a shot these tips are top and you will notice a difference in a very short time.
Was this review helpful to you?