The #got2bBrowsAndEdgesZA Project
We recruited a trial team of Brow Bosses and Edge Slayers to put got2b Glued 4 Brows & Edges to the test. They gathered their besties to school followers on how to create their hottest lewks using got2b Glued 4 Brows & Edges. They wanted to see if got2b Glued 4 Brows & Edges really is the key you need to say g'bye to that raggedy toothbrush forever! 
The Trial Team
We recruited only the realest of pros at edge-laying and brow-taming. True hairslayers that know what's up when it comes to products that claim to be innovative problem-solvers.
Week One's Story:

Edges? Laid ✅ Eyebrows? Snatched ✅ Hair? Set ✅ Our team of Brow Bosses and Edge Slayers Pulled through! This week we saw Brow Bosses and Edge Slayers dominate feeds with an introduction to their magic wand: got2b Glued 4 Brows & Edges.
 The Team did not fail to mention how got2b Glued 4 Brows & Edges was a solution to two common problems:

1) Having to carry hair product wherever you go so that you can fix your edges
2) Dragging the infamous old toothbrush (commonly used to fix edges and brows) with too. 
The Team's creativity was highly commendable. They proved that there's just so much you can do with your edges and brows if you have the perfect tool! We saw pearls incorporated into looks and natural vibes that stole our breath away!
Followers were quick to claim that the brush truly is the much-needed solution and raved about the convenience.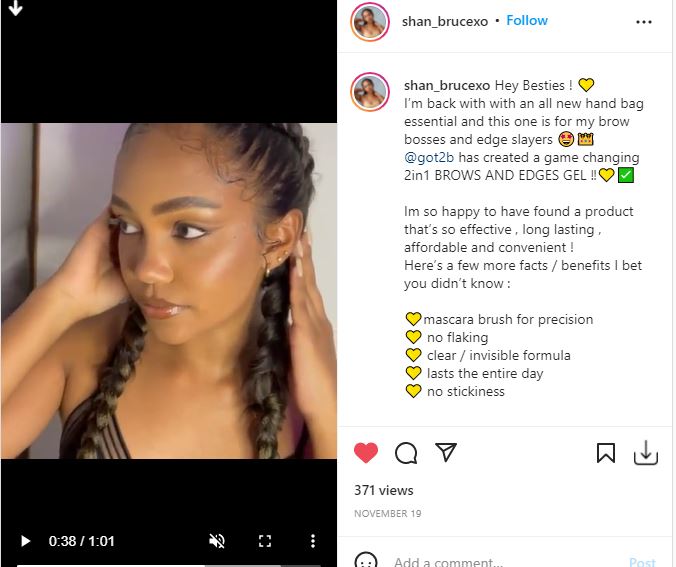 Week Two's Story:

This week our REALfluencers gave us the lowdown on product education and application. They showed us the versatility of the new got2b 4 Brows & Edges by showing us how easy the wand is to use. Think: the perfect swoop for edges and a dreamy laminated, feathered brow.
They also showed that the product suits all hair types, providing an even effectiveness and no flaky residue. 
Week Three's Story: 
Chile, talk about letting good vibes speak through laid edges and snatched brows! During the E-vent, our REALfluencers confidently showed off their glow-up game through beautifully-curated before-and-after content.
Their friends also loved the theme and were eager to share their interpretation of the concept. The group definitely broke the internet with their fire edges and snatched brows, proving that you need to keep got2b Glued 4 Brows & Edges close, and your friends even closer!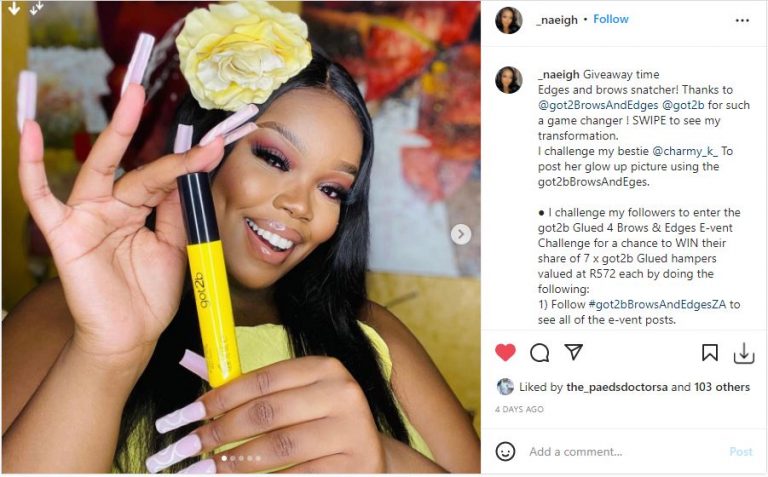 Week Four's Story:

So far, they'd told us everything we needed to know about got2b Glued 4 Brows & Edges, but now it was time for them to spill the tea on their true opinion! They told followers how their experience with got2b Glued 4 Brows & Edges really was. Would it be a regular essential on their handbags from now on?
From agreeing that the ol'raggedy toothbrush had to take a hike to saying that dynamite does come in small packages (for real: have you seen the size of this magic wand?!), the Team pulled through in full confidence to say it's "add to cart" vibes all the way with got2b!

About got2b Glued 4 Brows & Edges
got2b Glued 4 Brows & Edges is a two-in-one Ultra Glued gel made for styling and fixing brows and edges – anytime, anywhere. It boasts a versatile fiber brush with two sides: a wider side for applying the gel and a thinner side to make styling as easy as possible. Think:
✅ Strong, long-lasting hold
✅ Easy and precise application
✅ Clear, invisible formula
✅ No stickiness
✅ Fast-drying
✅ Helps to protect your hair from drying out
✅ Mascare-size – the ultimate handbag necessity 
✅ Vegan
✅ Alcohol-free