Versace Eros Pour Femme
Hot
March 27, 2015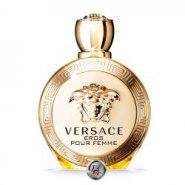 Product Info
Where to Buy
R1080 for 50ml
Available from leading retailers


Marked as the 'ultimate in power and seduction' by Donatella Versace herself, Versace Eros Pour Femme captures the radiance and sensuality of a women. A fragrance of strength, individuality and seduction. 
Refined notes of Sicilian lemon, Calabrian bergamont and pomegranate grains are present in the top notes of the fragrance, infused with jasmine, sambac, peony and lemon flower. Sensual woods make up the base note and include sandalwood, heady musk and ambrox. 
It is available in 30, 50 or 100 ml from leading retailers nationwide.
User reviews
Perfect
Heady but fresh and totally intoxicating.
Just using it in this beautiful bottle makes me feel excited.
Long lasting and very different to any other feminine scent.
Its strong and borders almost on a woodsy type of scent.
I love it.
I received a sample of this and its now on my wishlist
Product Recommendation
Would you recommend this product to someone else?
Yes
Would you repurchase this product?
Yes
Was this review helpful to you?
Versace Eros Pour Femme
We couldn't wait to get our hands on the new Versace Eros Pour Femme fragrance. With its mythological campaign starring Model Lara Stone and captivating story; representing the power and seduction of women, we knew that the fragrance inside would match the luxury and story of the campaign.

The bottle itself arrived in a case rather than the traditional box. The glass bottle, embellished with gold details and ancient greek motifs, not only perfectly represents the mythological campaign but speaks to the glamorous Versace brand that we all know and love.

The scent itself offers the perfect combination of masculine and feminine scents; not too sweet but rich with warm musky notes. It provokes a sense of excitement, strength and fun.
Was this review helpful to you?