Simply her by Avon
Hot
February 12, 2014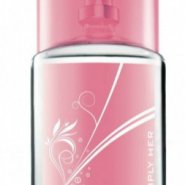 Product Info
Where to Buy
Got it as a gift from my Bestie
I got it as an xmas gift from my Bestie. I am a bit disappointed as i expected more from the perfume as i read a couple of reviews on the perfume. I expected a fresh citrus smell, but it is more of a floral scent
User reviews
Summer perfume
It's promising, but I'm still just trying to make friends with it.
The heart note is not lily, by the way! According to the brochure, it's lily-of-the-valley, which is quite different from lily, I think. Really exciting, how the orange comes together with lily-of-the-valley, never thought of it. And cedar, certainly gives depth.
Was this review helpful to you?