Release your inner rebel
Hot
February 13, 2014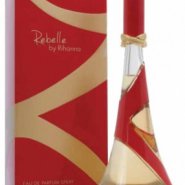 This fragrance was highly advertised that I avoided it for a while and did not give it a chance even at the first spritz.
I tried it again this year and the scent won me over completely. Strawberries, cocoa, and a light woody-ambery note. Beautiful fragrance
User reviews
Let out your inner Rebel
Rebelle...one of the richest smelling scents made by Rihanna.
the box for this fragrance is very intriguing with its gold and red adding for a very loyal look.
the bottle also looks elegant with its gold rim on the stopper and the very sexy red ribbon around the bottle and gold liquid
The actual fragrance is very unique to celebrity scents and better than many designer brands.
The initial spray with a very sweet berry smell with a sharp and fresh ginger.
The cocoa, coffee, and patchouli are noticeable through out the fragrance's evolution as Rebelle approaches the base it gets a lot sweeter but a creamy dark sweet.
Overall its very dark, sexy, and surprisingly tropical.
Was this review helpful to you?
Rebelle by Rihanna is the new fragrance for all the Rihanna fans out there! If you love her music and are a die hard fan, then you should be impressed by her new fragrance.

The scent is a warm kind of spicy fragrance with a tinge of coffee and cocoa. Its perfect for the evenings and sundowners. If you like a strong scent underlined with a hint of musk then you will definitely approve of Rihanna's new fragrance.

The fragrance accompanied with the design of the bottle really captures Rihanna's essence, the perfume reselmes her wild personality and sass.

Feel one step closer to your rockstar legend and put a little Rihanna into your day!

Was this review helpful to you?