Puma - Create
Hot
September 21, 2011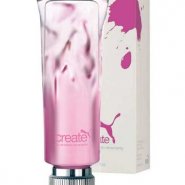 Sweet fruit - grapefruit, wild strawberry, and red apple, delicate floral - freesia, lily of the valley, and exotic Rangoon of Sri Lanka, and warm, comfortable base notes - musk, sandal wood, amber and vanilla.
User reviews
I am not too sure if they still make this perfume. I bought it years ago and I have used very little of it because I love it that much.
It has a very fruity but strong smell which lasts ages. It isn't overly sweet or over powering. If they do not make this anymore, I really hope they start making it again.
The packaging is great too. It looks like a tub but it is actually sculpted glass.
Really love this! My sister-in-law gave it to me a few years ago and I'm still trying to make it last! lol
my favourite perfume
i love perfumes, and very few smell great on me. this one smells awesome, and i realized that the sporty fragrances smell the best on me. So, it was discontinued - and my bf found the fragrance and bought it for me for our one year anniversary 3 years go. i still keep the bottles in remembrance, haha, but it is absolutely the best.