New from Thierry Mugler for summer of 2013
Hot
March 12, 2014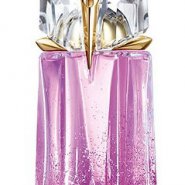 Product Info
Where to Buy:
I got mine as a love letter gift from BB, but i have seen and tried it out at Edgars at canal Walk.
If you find Alien a little bit too much, give it a try! You'll easily find yourself loving it.
User reviews
Alien Aqua Chic
I was freaking out from excitement when i received my love letter saying i won this perfume. i have always been a huge fan of the normal Alien and looked forward to try out this version of the perfume.

I tracked it all the way till it showed delivered to the post office and collected my perfume. This is my thoughts and views on the perfume.....

Alien Aqua Chic isn't so far off from the original. Jasmine and amber still the most dominant notes, despite the added touch of ginger, freesia and lemon verbena.

Indeed, this is a fresher scent when compared to the mysterious and heavy Alien EDP. It's also a lot softer and thinner on the skin, perfect for the warmer weather.

I would definitely wear Alien Aqua Chic on a warm Summer day. It's refreshing and feminine. The bottle design is so pretty and sparkly.

The longevity is not bad, but not great either. I got about five hours wear out of Alien Aqua Chic. It also tends to lose its strength after the top notes fade. It does require the occasional re-application to last you the entire day.
Was this review helpful to you?