My Monday fragrance
Hot
September 04, 2013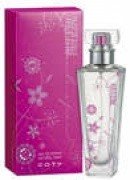 Product Info
Where to Buy
I bought mine at clicks, but most department stores stocks this.
Make a statement without saying a word!The independent girl with the in your face attitude. She doesn't care about fashion because she makes up her own rules.
User reviews
Whisper by Coty
I have had such a love hate relationship with this perfume. I received it has a gift and I love the body spray because it was the right amount of sweet I needed yet somehow this one on some days felt like it was too overpowering.
There were days that the scent wa serf t and some days it was just a bit too sweet an floral but I couldn't stop using it and I have
Guess I wouldn't stop buying it either.
Yes definitely a love hate relationship
Product Recommendation
Would you recommend this product to someone else?
Yes
Would you repurchase this product?
Yes
Was this review helpful to you?
Pretty in pink
I love this fragrance. With this i start my week.
Was this review helpful to you?