Guipure & Silk Rose by Jeanne Arthes
Hot
January 08, 2016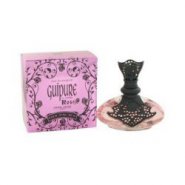 Product Info
Where to Buy:
Dischem, R179
Packaged in a Pink and Black bottle the Guipure and Silk Rose by Jeanne Arthes is a fragrance that represents a woman who is as soft and delicate as a rose petal but is also provocative like its thorns. Classified as an oriental fragrance for women, it contains top notes of coconut, angelica, and sweet almond.
User reviews
Good
This is a perfume that smells really nice. Soft amd delicate and I do think it suits ladies who go for a sweet perfume. The only downside to this product, and it is a biggie, is that the fragrance doesn't lasts very long. I have found that it doesn't even last from morning (7 am) to tea time (09:30 am). Which is a problem for me since there are other perfumes out there that lasts much longer. The price is really amazing and you get a matching body spray in some of the sets. The body spray lasts better than the perfume itself. I like the smell, but for this reason I won't repurchase.
Product Recommendation
Would you recommend this product to someone else?
Yes
Would you repurchase this product?
No
Was this review helpful to you?