BRITNEY SPEARS Hidden Fantasy EDP
Hot
October 22, 2010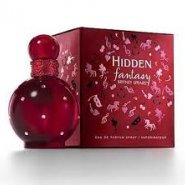 The perfume is a spin-off fragrance of the original perfume Fantasy and is described as "a seductive scent that is all about expressing the many mysterious sides of a woman". The bottle, is deep cherry red with pink crystals "symbolizing love, femininity and warmth" like the previous two. The perfume was developed by perfumer Rodrigo-Flores Roux and was "inspired by the singer's love of white florals, vanilla and luscious desserts". Uninhibited Imagination - Powerful emotions are ignited with a burst of Sweet Orange and Tangerine that lie intimately alongside delicate Grapefruit Blossoms and French Flowering Verbena. Coveted Secrets - Napolitano sweetness tempts you as the wild floralcy of Stargazer Lily and Sambac Jasmine is embellished with sensual Clove. Serendipity - Your hidden fantasies come alive with an intriguing finish of Mexican Vanilla Bean, Jacaranda Wood and Fluid Sandalwood, enhanced with the radiance of Amber.
User reviews
Hidden Fantasy by Britney Spears
This perfume is very different from every other Britney creation, and might be a positive surprise to those who are not too fond of the original Fantasy. The only thing Hidden Fantasy shares with its antecedents is the sweetness, this time interpreted as a citrus gourmand, with spicy and musk accents in the base. This fragrance is more mature, sophisticated and elegant than any other Fantasy, but it still manages to be very sweet, innocent and flirty.
Was this review helpful to you?
BRITNEY SPEARS Hidden Fantasy EDP
This is a very warm, sweet fragrance. I love the cherry red bottle with the pink rhinestones, beautiful colours that inspire sensual, romantic feelings. Another fragrance from the Fantasy range, I love it, although I can imagine many people don't. Definitely not a scent for everyone, the unusual sweet fruits don't just stand out from the croud – they jump up and shout! An admirable trait in any fragrance – it will get you noticed.
Was this review helpful to you?