Bobbi Brown Almost Bare
Hot
November 14, 2012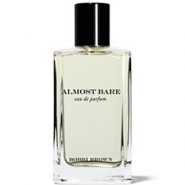 A lingering scent that offers your senses both sass and sweetness!
User reviews
Bobbi Brown Almoust Bare
I loved this fragrance and I would buy it again. It was the perfect size to have in my bag. I found it strange that the fragrances only come in one size and that makes it less cost effective.

The fragrance lasted very well during the day. It smells like you just had a shower all day long.

It is strong enough to wear in the evening, but this is one of my summer fragrances.

I really liked the "no frills"bottle.
Was this review helpful to you?
Bobbi Brown Almost Bare is the new fragrance from Bobbi Brown.

Perfect for summer, it is a must have! The fragrance is rich and sweet, but not so much so that it overwhelms you. It is the perfect mixture of sass and sweetness!

The floral scent is a mixture of violets and bergamot which really sticks to your skin. It is perfect for an all day wear and even for sundowners.

Doing some research on the fragrance I noticed that the perfume is in high demand. So if you smell it and like it, you should buy it!


Was this review helpful to you?