Noreva Trio Lotion Night Time Intensive Depigmenting Care
Hot
May 21, 2015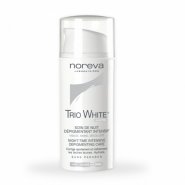 Product Info
Where to Buy
Selected Clicks Stores Nationwide
This effective depigmentation cream works hard to visibly correct brown spots on even the most sensitive skin. Working while you sleep, this cream blocks melanin production, slows new spots from developing and reduces the appearance of new brown spots on face, chest and hands through continued used. 
Works best with the TRIO WHITE Soin de Jour, skin is depigmented and moisturised and complexion is evened. Comprised of Reductol and Vita C2G, melanin production is controlled and Active White eleminates cells containing melanin. g-ABT acts directly on enzyme responsible for melanin production 
User reviews
Noreva for the win?
I love Noreva products, and i think this one is great, however i only tried a tester, so i dont think i got the full benefits.. would love to try it though
Product Recommendation
Would you recommend this product to someone else?
Yes
Would you repurchase this product?
Yes
effective
I bought this entire range from clicks.its cheaper than my usual clarins bright plus and vichy proEven which are my usual go to ranges to sort my pigmentation.its pleasant to use although does not absorb as well as other products i've used.you have to allow it to sit on the skin for a few minutes.its non irritant and very hydrating.
Whilst ive seen no significant brightening effects my skintone does appear smoother and even toned.my pigmentation is still there.
Of this range the depigmenting mask for me has the most visible lightening brightening n fading of marks.results are visible from its very first use.
All in all this range is good with ingredients known to work.
I would probably repurchase and after six months full use reevaluate.
Noreva Trio Lotion Night Time Intensive Depigmenting Care
With pigmentation a serious concern of my olive complexion - I look towards miracle products to prevent and reduce dark spots.
Hard working retinoid like action is effective in reducing dark spots on my skin. I saw pigmentation reduce, and it might be the lack of summer sun, but I could swear that pigmentation was no longer developing -or had slowed at least!

I look forward to seeing this product work during high exposure periods!