PureActive Exfo-Brusher Wash
Hot
August 22, 2012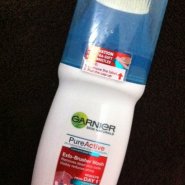 Product Info
Where to Buy
Dischem, Clicks
Garnier's all in one anti-blackhead face wash and washer nozzle.
Face Wash: For those of us who lead an active lifestyle, sweatiness after exercise can lead to clogged pores and blackheads. The face wash is cooling and soothing on your face which makes it ideal for use after exercise.
Nozzle: The face wash is secreted through a sophisticated exfoliant brush which allows you to get into those hard to reach areas like next to the nose where blackheads like to live. The nozzle is also designed to foam the wash which gives your face that icy cool and clean feeling.
Directions:
1. Twist the bottle top 180 degrees
2. Turn upside down and squeeze until you see the product coming through the bristles of the exfoliator brush.
3. Scrub your skin in circular motions with the exfoliator brush, easily getting into tough to reach spots.
4. Twist the nozzle closed again.

Tip: It also works very well in other areas like the hairline on your forehead or under chin.
Use with a good moisturizer for maximum results.