Hey Gorgeous French Roast and Vanilla Bean Body Polish
Hot
April 19, 2013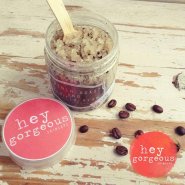 Product Info
Where to Buy
Online or place orders through their Facebook page
A beautiful fairly course golden scrub with flecks of coffee bean in a clear plastic tub. It includes a wooden spoon.
User reviews
Are you looking for a skin fix?
One that's super easy and guarantees results?

Well look no further, I have your solution. The French Roast and Vanilla Bean Polish from Hey Gorgeous. This scrub is pure decadence wrapped up. I received this body treat as well as many other Hey Gorgeous products as a Gift. These products I found are proudly South African and made to order. This means your products are at their best and made just for you.

This body polish was absolutely divine and a beautiful product that works perfectly if given as a gift, party/wedding favour or to just spoil oneself. The smell is sensational and immediately calms the mind. The packaging is simple but highly effective.

The scrub is course but doesn't hurt or damage skin. It's a light golden colour which is reminiscent of the French Vanilla whilst the coffee is represented by the little flecks of coffee bean within the scrub. I did find that I had to use quite a bit of the product to do my entire body and was glad that I had received this without paying, as R120 per bottle is a tad steep since it only lasted 3 applications.

The results though were phenomenal! My skin was left soft, smooth and slightly firmer. This I was told is due to the benefits of the coffee.

There are so many benefits in using this fabulous French Roast & Vanilla Bean salt body polish.
1. No more cellulite. While coffee is wonderful for many reasons, it is actually the caffeine it contains that provides the added health benefits as a scrub. When coffee is applied to the surface of your skin, it helps redistribute fat cells and decrease the formation of cellulite.
2. Problems with varicose veins. Many people accept varicose veins as a necessary evil, either as a sign of getting older or a predisposition inherited from Mom or Dad. With your new coffee body scrub skin care routine, you may be able to prevent varicose veins--or even make them vanish! The caffeine in a coffee scrub acts as a vascular restrictor, shrinking blood vessels and reducing varicose veins.
3. It smells amazing and instantly lifts your mood!

Beautifully blended with essential oils, grape-seed, jojoba and sweet oil, Dead Sea, Khoisan and Epsom salts, this fabulous scrub will leave your body and legs incredibly soft and smooth. It's a definite lust product of mine, but one that will have to be an indulgent treat. Its R120 for 250g of fabulousness!

Unfortunately the Hey Gorgeous products are not available at stores yet but all orders can be done through their Facebook Page- Hey Gorgeous!

Was this review helpful to you?