Dermaceutic Foamer 5 Gentle Exfoliating Cleansing Foam
Hot
December 04, 2015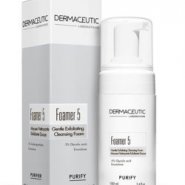 Product Info
Where to Buy
Selected Dermaceutic flagship stockists. Visit www.dermaceutic.co.za for stockist information
The Dermaceutic Foamer 5 gently removes impurities and dead cells and purifies the skin. The Foamer 5 is said to be recommended for darker and or more sensitive skin with dull complexion. It assists with the appearance of irregular texture and skin imperfections. It can be used as a daily cleanser.
User reviews
The PERFECT cleanser
I am NOT looking forward to the day that this bottle runs out and I feel like it's coming quickly because I use this religiously. I have never before used a foam cleanser and I don't think I'll ever use anything else again. This cleanser leaves no residue on the skin, unlike every other cleanser I've used before. It doesn't feel like my skin has been 'stripped' and it actually helps my dry skin without over-moisturising. My skin feels exactly how I want it to after I cleanse: fresh, clean and hydrated.

I love the minimal packaging, I feel like it's the perfect representation of the product you're getting. There's no fuss, just a simple product that works exceptionally well. I use this in the shower and have never noticed any kind of sensitivity around my eyes or mouth which has happened with past products. I really love that this is a foam cleanser, it just feels so fresh and light on the skin! It's also very practical as you only need to press down on the dispenser once for the perfect amount of product and I really appreciate that kind of thinking from a company.

I would highly recommend this to anyone who wants an effective, gentle cleanser for everyday use.
Product Recommendation
Would you recommend this product to someone else?
Yes
Would you repurchase this product?
Yes
Was this review helpful to you?