Thursday Plantation Tea Tree Oil
Hot
March 19, 2013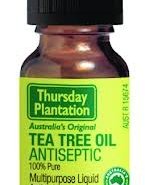 Product Info
Where to Buy:
Dischem Stores
A little rescue remedy for skin hygiene and protection.
User reviews
I am a huge fan of Tea Tree Oil, and I always have it on my dressing table for emergencies. I use this on days when my skin completely stresses me out, and is in need of some rescuing. I apply it to any red patches, inflamed pimples, blemishes or even sun burn; and I can actually feel how it soothes the area. It takes about an hour or so, but I definitely see results when I apply this little miracle from the Earth. I love that it is completely natural, and does not contain any harsh chemicals - which is never a good thing. It is quite potent compared to other Tea Tree Oils out there, and the smell is really strong; but it is one of the most purest forms of TTO on the market.
Was this review helpful to you?