Dermalogica Ultra Calming Relief Masque
Hot
March 18, 2011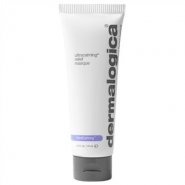 A powerful, ultra-calming treatment masque enriched with Colloidal Oatmeal to soothe enraged skin and provide lasting relief from sensitized skin flare-ups, redness and rosacea.
User reviews
skin
i love dermalogica special the cleanser ultra calming one. it helps with sensitive skin
Product Recommendation
Would you recommend this product to someone else?
Yes
Would you repurchase this product?
Yes
Dermalogica Ultra Calming Relief Masque
I find this mask really soothing and calming to the skin which is exactly what it is intended for. this is the perfet mask to use on your skin after you have steamed and extracted, as it will soothe any redness and sensitivity and give your skin great relief.
Dermalogica Ultra Calming Relief Masque
I received a small sample of this in the Glamour magazine and of course I tried it out. Firstly, this isn't for my skin type as I don't suffer from seriously sensitive skin or rosacea but every now and then there is redness.

The texture is very light and thin, I was expecting a thick formula. It absorbs into the skin like a moisturiser would . I kept it on for 10 mins as directed then rinsed it off. There was a definite softness to my skin but only just so I can see how this would benefit someone with hypersensitive skin as you don't want too much stuff going on your skin in case it flares up again.

I don't know how much this retails for but I can only assume its expensive like all Dermalogica products.