Clicks Tea Tree Oil
Hot
June 04, 2012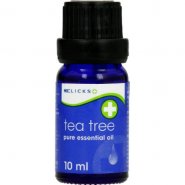 Product Info
Where to Buy
Any clicks store
It comes in a small 50ml or larger 100ml bottle, brown bottles with a blue label. Can be found near herbal remedies. R49.99 for 50ml.
User reviews
Clicks tea tree oil
Clicks tea tree oil is doing the damn thing! So I had this enormous pimple on my forehead, it was painful. Felt as if I banged my forehead against the wall hahaha... so I cleansed my face and applied my daily moisturizer and applied a small amount of tea tree oil on my pimple ( did this for only two days)

Now the pimple is gone ?? And pain free. I've been using tea tree oil for a while now. Only apply on affected areas and voila!

You can get the 20ml bottle at clicks for less than R70.
Product Recommendation
Would you recommend this product to someone else?
Yes
Would you repurchase this product?
Yes
Was this review helpful to you?
I am so happy that I have grown up knowing that I can trust the quality of Clicks products. When I developed a rash on my arm, I knew I should try tea tree oil on it. I was disappointed that the oil had such a high price R50 for 50mls because in previous times I purchased it for R30±. But nevertheless I've used it religiously and it worked stunning-rash has gone. Guess one must pay for effective products.
Was this review helpful to you?