Bionike Defence Rosys
Hot
March 23, 2012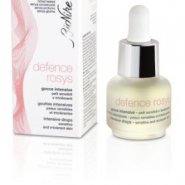 Intensive drops for sensitive and intolerant skins.

Concentrated fluid contains active ingredients that protect the structure and functioning of blood vessels. It also provides broad spectrum antioxidant action.

It soothes skin irritations and stimulates the skin's natural defences to protect skin form photoageing (caused by UV radiation) and counters free radicals.

Daily use improves the skin's blood flow and protects the skin's blood vessels.

Apply morning and night on face, neck and decollete after cleaning skin well.

Cost : R225
User reviews
My mother uses this on her skin and I've seen a major difference in a matter if weeks. I really wanted to try it out because I liked the bottle, it's a cute frosted bottle with a little dropper tool. The oil for your skin feels silky smooth and very very very nourishing. It makes my skin file silky smooth and soft after a few hours.
Was this review helpful to you?
I love the way this product makes my skin feel! I could see a difference after only a few applications. My skin felt hydrated and refreshed, especially in the mornings. There is a noticeable reduction in redness of my skin - people have even commented on it.
Was this review helpful to you?