Bioderma Sensibio Forte
Hot
July 30, 2013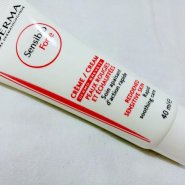 Product Info
Where to Buy
Selected pharmacy
"Rich in soothing, modulating active ingredients, Sensibio Forte quickly soothes cutaneous reactions and increases the skin's tolerance threshold. Hydrating and moisturizing agents fight the cutaneous dehydration which often accompanies irritation."

User reviews
Skin saviour
This product is incredible for when I have a sensitive skin flare up - this usually happens with every seasonal change, and the only thing that will calm and hydrate my skin is this.

It's expensive, but it WORKS!
Was this review helpful to you?
comforting and soothing
This is an exceptional post peel or laser carecream.it is hydrating soothing moisturising and incredibly comforting.
Was this review helpful to you?
A must-have for sensitive skin
I found this gem from Bioderma at my pharmacy and had to pick it up as it seemed perfect for my skin - and I'm glad I did. I use this cream on a when-needed basis whenever the redness in my skin flares up, whether it's from a reaction to something I've used, or from a touch too much sun, water irritation after a warm shower, or after even a gentle exfoliation. I've found that it helps with rosacea-related redness. Immediately after applying this soothing cream, I can feel my skin's irritation disappearing, and within a minute it is fulling absorbed, leaving my skin softer, moisturized and visibly less red.
Was this review helpful to you?