Solutions Truly radiant
Hot
April 15, 2014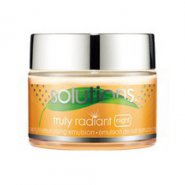 Product Info
Where to Buy
Got it from my bestie that is a Avon rep
Instantly helps skin look like it's glowing from within. With Optic Pearl Technology and Aronia Berry Complex to help you reveal your inner glow for perfected, luminous finish.
User reviews
:)
this product left my skin feeling sore and red - it made my face burn when I put this on after washing my face wont use it again
Truly Radiant day and night cream
I got this on special, 2 for the price of 1.
Its very inexpensive when on special.

I think I will continue using this and repurchase, I really like it.

Both creams are very light yet moisturising. They don't make skin feel greasy and leave any oil residue.
I especially love the night cream. Its called a "retexturizing emulsion" and it works amazingly. When I wake up in the morning my skin looks so smooth and soft and kinda glows! With continued use, you notice it more and your skin glows from within.
The range gives dull, dehydrated skin a boost. I have dry skin so it works wonders.
My skin looks much more brighter

The packaging is just so elegant and stylish. You'd think it was high-end and super expensive. Glass.jar and shiny silver screw on lid.
Lovely detail on the brand as well

Overall its a really good product and I'd recommend to everyone
This formula is a lightweight cream
I have been using Avon solutions for a while now and especially loved the hydra radiance products. Unfortunately, not sure whether it was discontinued cause I couldn't find them and settled for this night cream instead, thinking it was almost similar. Well, I wasn't too happy with the results. Doesn't moisturize the skin at all.Only leaves it with glowing particles. I find that I have to smear on a large amount or at times apply a second layer of moisturizer just before bed.