Ponds Flawless Radiance Even Tone Day Cream
Hot
November 01, 2012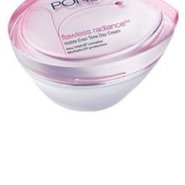 Pond's has now launched a new product known as the Flawless Radiance range. These products are the beginning of a new era which is attracting a new collection of users. Targeting a younger skin, the Pond's Flawless Radiance day cream offers your skin a fresh finish along with a light feel.
Perfect for normal to oily skin, this day cream does not create an early layer of residue on your face. Using this product, I found it to remove most of the excess oil. Not only does this daily facial cream smooth out the unbalanced texture of your skin, but I found it targeted both the dry and oily areas evening the skin out and leaving a trail of smoothness in its wake.
Now as a skeptical user of day creams, due to the fact that the products I tend to use add to the dilemma of "oily skin", I was pleasantly surprised to find that the flawless radiance product range is just that! Pond's Flawless Radiance day cream is the perfect summer product. Every girl should have her day cream close at hand, especially in summer.
Neglecting the use of day cream during hot, dry months often result in a dry and damaged skin. This is what ages the skin faster than nature intends. As the day progresses and you run around, whether at gym, work or simply after that irresistible chocolate ice cream, your skin tends to collect dirt creating an unwanted oily texture. In order to avoid such a fate, it is absolutely vital to keep the skin moisturized and nourished by using a day cream. Pond's day cream offers young skin the visible even tone that this product proudly displays, as well as an extremely refreshing and elegant smell. We all know that feeling of using an expensive product and it smells just awful! Well, with a more affordable product such as Ponds day cream, you can avoid that horrible fate and simply enjoy the sweet aroma that teases the senses.
If you have a younger skin, the Flawless Radiance range is a must. Targeted toward a younger genre of ladies, Pond's has made this product affordable. So even if you are on a student budget, you can afford to look better than what you feel!
I would recommend this refreshing day cream to most ladies sitting with normal skin types or for those of you sitting with the dilemma of a oily skin. You will find this product to even out your skin tone, and do so in a short period of time.
Welcome your skin to a new world and a new range of products. Welcome it to Pond's Flawless Radiance day cream!