Nivea Q10 Day and Night Creams
Hot
September 19, 2013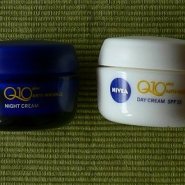 Product Info
Where to Buy
Major Stores, and Beauty Shops
I have not used these creams in a while, as I get distracted by the new and improved statements other Day and Night creams make, but recently gave these two another go, as my current cream was just not rich enough for the Cape Town winter, and I am so glad I changed, the original Nivea scent alone is enough to bring back a warm feeling of nostalgia, and my skin has been looking and feeling fantastic recently, in fact one of my colleagues thought I had been to a spa recently, as I was looking so smooth and radiant.
The night cream feels very nutritional and thick and that is all that I want for a night cream. Despite of the thickness it has never really given me break outs. I do have period pimples but I am resigned with that and don't think this cream clogs my pores.
As for the anti-aging effect, I feel my skin firmer.
I also like the day cream in the Nivea Q10 range, it is a bit more greasy on my skin, but it is really rich and my skin is super soft and comfortable.

In my research on this product I found out this is Kate Middleton's (Duchess of Cambridge), favorite day and night cream and I can tell why.