MAC Care Blends Essential Oils
Hot
May 28, 2015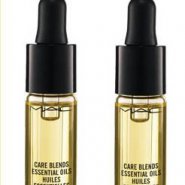 Product Info
Where to Buy:
Available at MAC stores.

Available in Grapefruit + Chamomile or Sweet Orange + Lavender, the oils consist of a base of four richly conditioning botanical oils and natural essences.When applied to the skin after cleansing and before the skincare regimen, this product purifies, regenerates, soothes and calms. It can be blended with other MAC formulas, such as foundation and concealers, for a dewy finish.
User reviews
MAC Care Blends Essential Oils
Want to achieve a gorgeous dewy foundation finish? I learnt a pro tip using MAC Care Blends Essential Oils from a MAC makeup artist. For a dewy finish, mix a drop or two of MAC Care Blends Essential Oils with your foundation. If you have oily skin, this is not recommended and might make your T-zone shiny. However, for dry to normal skin, the effect is gorgeous.

I mix two drops of MAC Care Blends Essential Oils with my MAC Mineralize Moisture Foundation daily. I have dry skin to begin with, so it makes my foundation nourishing rather than drying. I'm not quite sure which scent variant I have, but the scent is subtly sweet and unobtrusive.

Thanks to MAC Care Blends Essential Oils, my foundation goes on smoother, is easier to blend and looks less cake-y as well. I don't know where my makeup game would be without MAC Care Blends Essential Oils. It may look like an insignificant little product, but it really packs a punch.

Was this review helpful to you?