Dr. Organic Rose Otto Skin Lotion
Hot
January 16, 2014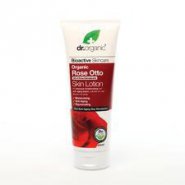 Product Info
Where to Buy
I only know of Style 36 currently that stocks Dr Organics products.
If you're looking for a safe, organic, animal testing free body lotion, look no further.
User reviews
Dr. Organic Rose Otto Skin Lotion
You already have so many things to worry about in your daily lives that looking for the perfect body lotion shouldn't be one of them. I have come across the best moisturiser which will leave your skin feeling great and your mind guilt free!

The Dr Organic brand is something I am definitely looking out for. All of their products are holistic, unique, completely natural and organic. They work on the best way to bring out the ingredients they use in their products. Each product goes through some serious testing before it hits the market.

I was introduced to this gem of a lotion by my old pal RubyBox. I recieved a tiny sachet of this lotion and immediately feel in love with it. The only problem I have is that I only know of one stockist. And that is Style 36 online store.

I immediately had to buy the full size because it made me happy :) It comes in a squeeze tube of 200ml. What was once dry skin, is now completely hydrated. This lotion is apparently directly absorbed into the epidermal surface of your skin layer. It promises to strengthen and rejuvenate your skin while boosting collagen to give you a more youthful and radiant appearance. and trust me, after even just one use, you will know you have got to continue this product.

This precious lotion contains many organic ingredients, some of which are as follows: Rose Oil, Rose Extract, Aloe Vera Juice, Olive Oil, Coco Butter, Shea Butter, Vitamin A, C and E, Liquorice Extract, Irish Moss, Geranium Oil, Clove Oil, Passiflora Extract, Lime Flower Extract, Calendula Extract, Chamomile Extract...It is also Paraben and SLS free with no artificial colours, fragrances or harsh preservatives.

It is suitable for use on your entire body as it is organic and pure. You can also apply as often as you need. I love the packaging of the product. It looks very fancy for a body lotion. The colours are great.

Do not even get me started on the fragrance. Its like walking through a flowering rose garden in the middle of spring in the early morning. It is such a boost to have a body lotion leaving you smelling like a million bucks every morning.

Best part is, they are 100% against animal testing! Now you can also have a clear conscience too that no little creature is being tortured for your beauty regime.
Was this review helpful to you?