Dermaceutic Light Ceutic Skin Toning Night Cream
Hot
December 04, 2015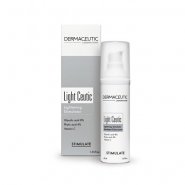 Product Info
Where to Buy
Selected Dermaceutic flagship stockists. Visit www.dermaceutic.co.za for stockist information
Recommended for dull skin and irregular complexion, Dermaceutic Light Ceutic Skin Toning Night Cream stimulates skin radiance and evens out the complexion. It contains active ingredients glycolic acid, phytic acid and vitamin C which ensure complexion is harmonized and the skins radiance is restored. Apply to the face in the evening. 
User reviews
Discolouration be gone!
I've never worried about discolouration too much, until I had a look in one of those magnifying mirrors (you know the ones that make you want to just give up then and there) and I noticed that around my nose and mouth, my skin has darkened.

I use this night cream sporadically as it's quite rich and can sometimes leave my skin oily. It is very effective though in evening out the complexion - it sometimes tingles which I take as a sign that it's working! I wouldn't recommend using this when you have active breakouts as it can burn on broken skin (I know that sounds intuitive, but I made the mistake). If discolouration and dark spots are major concerns of yours, I think this is a worthy investment. I've tried serums before that promised to tackle these issues with very few results, but this genuinely has given my skin a more even and luminous tone.
Product Recommendation
Would you recommend this product to someone else?
Yes
Would you repurchase this product?
Yes

Was this review helpful to you?