Clinique Moisture Surge Face Spray Thirsty Skin Relief
Hot
December 05, 2014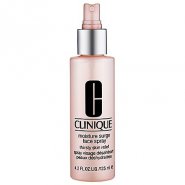 Product Info
Where to Buy:
R 320 at at www.clinique.co.za or selected Clinique counters nationwide.
An oil-free face spray containing soothing aloe vera which replenishes skin's moisture level, leaving it smoother and softer.
User reviews
Clinique Moisture Surge Face Spray Thirsty Skin Relief
Clinique Moisture Surge Face Spray really does bring great relief to thirsty skin. It is not meant to substitute your normal moisturiser, but rather as a pick-me-up during the day. It is a great product and quite versatile:
- It's great when your skin feels dry throughout the day and you need to get rid of the tightness. A pump or three brings immediate relief
- It does not shift your makeup at all, IF you use just enough to relieve tightness. When you over-spray, it can make your mascara wet
- The spray is a fine mist and won't spray big droplets on your face
- This is great when you are in an air-conditioned office of sorts and your face needs extra hydration throughout the day
- I also use this when I over-powdered my face after applying foundation, it takes away the cakey look. Just spray a few pumps on your face after applying powder, and wait a few seconds for it to dry before continuing with your makeup
- I sometimes use it before or/and after applying a full coverage foundation. It does NOT set your makeup but it does add radiance of the slightest bit, or should I rather say it takes away the dullness of a full coverage foundation
- This really does not cause breakouts on my combination skin; it doesn't contain any oils
- It is not a long-term solution for dehydration, but is a superb short-term fix when your face needs an instant pick-me-up

I would also add that it lasts a reasonable amount of time. I've had it for about six weeks, I use it 2-3 times a day during the week at work (thus, not on weekends), and I have used about a third (still 2/3 to go). Would definitely repurchase, I think it's worth its price tag.
Product Recommendation
Would you recommend this product to someone else?
Yes
Would you repurchase this product?
Yes
Unrivalled Spray On Skin Drink
I have been completely impressed with this spray since first use! I see no cons, only pros, so read on...

The bottle design is just perfect! It's size is compact enough for my handbag and cosmetics purse for when I'm travelling. It also fits perfectly in my bathroom mirror or on my dressing table. The look is cool, streamlined, feminine, and not O.T.T.

I spray this on inbetween each step of my daily skincare routine, and it ties each product together so well. My skin doesn't feel tight, dry, oily, or puffed up - especially early on in the morning. I love that it has so many uses as a toner, light moisturiser, makeup primer, setting spray, and pick-me-up!

During the day or on evenings out, a few sprays is enough to pick up my makeup and lift my mood!
Product Recommendation
Would you recommend this product to someone else?
Yes
Would you repurchase this product?
Yes
Clinique Moisture Surge face spray
I don't believe in spending too much on toners,that's why i like this and will choose it over the dermalogica toner.