Bio Retinoid Anti-Ageing Concentrate
Hot
June 02, 2013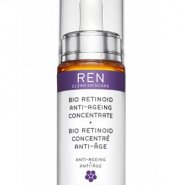 Product Info
Where to Buy
Selected Woolworths.
A synergistic complex of pure, potent, 100% nature derived Vitamin A, Pro Vitamin A and Retinoid Analogue that combats the appearance of wrinkles, imperfections and age spots leaving the complexion visibly younger, smoother and brighter without the irritating effects of synthetic Retinol.

Results:

Skin appears smoother and younger
Complexion appears brighter and more even toned
Reduces the appearance of wrinkles, age spots and imperfections
Skin looks firmer, plumper, healthier
User reviews
Cruelty free skincare
This Anti-Ageing concentrate comes in a convenient 30ml bottle with a dropper. This ensures that you always use the right amount of product on your face which also helps you save money as you won't be using more of the product than needed.
It is to be used at night. This yellow concentrate has various natural oils, which gives it a natural fragrance. It does not smell like any oil in particular, but the scent is very light so it is not bothersome.Even though it's oily, it's very easy to rub into my face and it does not leave a heavy oil feeling on my face. The product left my skin very smooth and soft without any redness or tightness. Even though the box recommends that you can use a night cream after it, I don't because I feel that the concentrate is moisturising enough for my skin, but this may vary from person to person
Was this review helpful to you?