Filorga Sleep Recover anti-fatigue night balm
Hot
June 02, 2013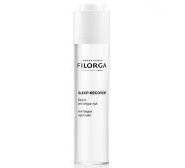 Product Info
Where to Buy:
Edgars and red Square stores
This is another one of those products that I'd like to sing the praises of (only this time it won't be off-key). Where do I begin? It applies like a dream, it is smooth and glides on your skin and is absorbed super quickly. It is completely non-comodegenic and I haven't experienced a single breakout because of it (which always pushes up a products rating in my book). Your skin completely drinks this product in and I could see immediate results. My skin instantly felt smoother and looked more taught and as it's meant to be used beneath your night cream; it enhanced the application of my other skin care products. It's almost like a primer for skin care, haha. As I'm using a range that targets dark spots (thanks acne) this product has really helped speed up the process. My skin looks brighter and more radiant and is softer to the touch. The discoloration beneath my eyes has also diminished and when I wake up in the morning, my skin isn't puffy. I don't have any "tired lines" so I can't comment on that but this product has definitely helped my skin in other areas.It smells like a fruit basket and is totally yummy! I'm really thrilled.

With ingredients like silk tree extract, horse chestnut extract and something called DERM SRC, it has a whole host of skin loving goodies to reduce inflammation, brighten and tighten the face.

If you need help with puffiness, a tired appearance or general skin aging, this product is for you.
User reviews
Filorga Sleep Recover
It's a bit pricey but worth it.
Was this review helpful to you?