Dermactin Age Spot Brightening Serum
Hot
January 09, 2012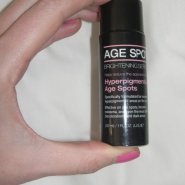 Small black bottle with 30ml of liquid. Application is via a wand (like a lipgloss) that has a soft brush on the end.
The Serum is clear and i find it has a bit of a chemical smell.

To use: Massage daily into desired areas until completely absorbed. do not use more than twice daily. Avoid contact with eyes or broken, irritated skin. Do not wear if going in the sun
User reviews
Not for me
I was given to believe that this product sells itself cos it works so well! It's fairly pricey and you'll find it as dischem! U apply it and leave to dry and you are guaranteed to see results within at least three months on dark n age spots! I hated it from the slimy texture to the smell to the sting on my skin! I didnt finish it cos using it was like using mosquito lotion!very drying, does create some exfoliation of skin and thereby lightens marks in its favour!
Dermactin Age Spot Brightening Serum
I bought Dermactin Age Spot brightening serum in Dischem after the beauty advisor in-store raved on and on about it. I even spent 15 minutes googling it just to make sure it was a good buy. It cost me R230. I must say, I LOVE IT! The 30 ml bottle does kinda look small but the "wand-like" applicator helps you get the right amount of the serum and it's so easy to apply. It is easily absorbed and does not make my combination skin oily after applying my regular moisturizer. I have been using the serum for close to 2 weeks and my age spots have significantly lightened. I am so pleased! I hardly apply foundation because I am loving the way my face looks. It has minimized my breakouts. To ensure that this serum works to your satisfaction, be sure to apply a sunscreen based face cream as this will minimize darkening whilst the age spot brightening serum works underneath.
Dermactin Age Spot Brightening Serum
Well Dermactin promises to diminish the appearance of all hyperpigmentations of the skin. Hyperpigmentation is any dark spot, including age-spots, freckles, malasma, and sun-spots. Dermactin claims to be effective on even the most difficult to reduce dark skin spots.

I got this serum at Dischem (its about R150-R200) after i had a birthday facial (this was in May). As i have a few marks on my face from not wearing a sun screen and the occasional pimple i squeezed (i know - my bad) i wanted something that would be easy to use, friendly on the purse but effective. The therapist told me that she gives this to all her clients and that it really works and i will get good results using this every night.

Well 7 months later and i cant say that i have seen any results. I have used it every night (ok i did forget a few here or there) and can not see that it worked on my skin. i still have markings where i used it and i dont think it made a huge change at all. i have tried to see what other people may think or what they say on their website but could not find a web site for this company.

A few freckles have gone a bit lighter but the spots and marks that i really used it for - nothing happened.