Clinque Even Better Dark spot corrector
Hot
October 11, 2013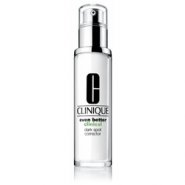 What it is:
A serum clinically proven to visibly reduce dark spots, age spots, and traces of past acne.

What it is formulated to do:
This lightweight, layering serum effectively evens skintone with a highly effective, yet safe and comfortable formula. According to clinical trials, this product delivers results comparable to a leading prescription ingredient. Notice the gorgeous results in as little as four weeks.

What else you need to know:
This formula is appropriate for all skin types—even sensitive skin that may not tolerate other treatments. For optimal results, follow with a moisturizer and a daily, broad-spectrum sunscreenDermatologist-developed to be safe, comfortable. Yet in clinical trials our serum was comparable to a leading prescription ingredient in visibly reducing dark spots-a verified 58% improvement at 12 weeks. For all skin tones: See results starting in just 4 weeks, with a visible reduction in age spots and acne scars. Also appropriate for backs of hands and chest, too.




User reviews
Clinique Even Better Dark Spot Corrector
I used the dark spot corrector for 6 months and all my dark spots are gone. it is very effective and it makes your skin soft, lighter and clear
I love all the clinique products especially in winter you dont get dry at all
Was this review helpful to you?
Clinique Even Better Dark spot corrector
I went to the clinique counter to try this for my self after seeing the hype about it on tv and reading so much about it.
I love Clinique products beacuse they have been dermalogically tested and is usually safe to use on all skins.
The sales lady explianed the product to me in very much detail; but, in a nutshell it works almost like a serum to target areas or dark spots and pigmentation as a results of acne and scarring.
I was very eager to try and she gave me some on the back of my hand to test with. I didnt notice a very distinct smell, actually it was very mild and the contents were creamy but very light and surprisingly absorbed very quickly on to my skin. I rubbed it into my palms and lightly just patted, not rubbed it into my skin.
i was expecting something amazing to happen but, It just felt like another moisturiser. My skin was quite dry that day so, the product did help to sime extent to lessen this problem although I didnt notice an instant improvement in dark spots hahahahaha maybe i am just too eager and I dont really have many dark spots anyway.

In closing, the product is pricey but, I can assure you in my expereince Clinique never disappoints!

Was this review helpful to you?