Clarins Bright Plus HP
Hot
February 26, 2014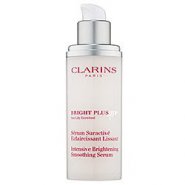 Product Info
Where to Buy:
Edgars, Woolworths and Foschinis
Lightening, brightening and smoothing serum
User reviews
Pricey but worth it as a booster second cycle
I get some scarring from break-outs and my insistent picking (Yes I know exactly how bad this is for me) and I find this product truly helps - the entire range is rather pricey so I use this in conjunction with the Bright Plus Night Cream. The skin regenerates itself at night and is more receptive to active ingredients at night so I feel for me it is best to invest in the best for my nigh time routine for my specialized concerns - especially when I am going through a bad patch (scarring pigmentation wise) I found that it helped my skin heal faster and the pigmentation cleared up much quicker and more effectively when using this product at night. Unfortunately it is quiet expensive at R605 so I alternate this with another product every second cycle ie every 6months.
No significant chsnges
I used two bottles of this combined with the entire range to lighten some post inflammatory hyper pigmentation following a facial burn! While the texture fragrance and consistency are a joy to use the Clarins consultant was so sold on the concept that this gives visible results that i simply persisted with the range which is significantly expensive! Whilst i do believe in Clarins and have also use their multi active , facial oil and body treatment range this product did not work for me!
Not sold!
I bought this serum in hopes of lightening my blemish and acne scars, it smells delicious and is absorbed really quickly into the skin, however it seems to give me breaks out? I have only been using it for 2 weeks now and I can definitely see improvements in my scaring but I am going to stop using it if the break outs continue! Perhaps better used on non-oily or acne prone skin! I will update this in a few weeks!