AVON Banish cream
Hot
August 21, 2013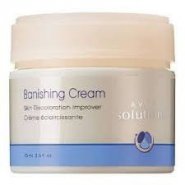 Product Info
Where to Buy:
AVON Shop or AVON Consultant
This is a brilliant banishing cream that helps clarifying and brightening your skin tone.It can be used for face and neck before you go to sleep,so it works overnight.It should not be used during the day as the sun can cause irritation and bad reactions.
It helps evening out the skin and removing pigmentation and blemishes.
User reviews
AVON BANISH CREAM
can i use it for the body as well.
Product Recommendation
Would you recommend this product to someone else?
Yes
Would you repurchase this product?
Yes
Was this review helpful to you?
AVON Banish cream
This cream really helps reduce pigmentation and remove blemishes.However it made my skin face too white which is not something I like.But it really works to make your skin tone even.Caution: Always use it at night ONLY.As it can have bad reactions to your skin if used under sunlight.
The price is also really good for such a powerful and effective product.
Was this review helpful to you?