Annique Vitamin E Tissue Oil Capsules
Hot
May 17, 2011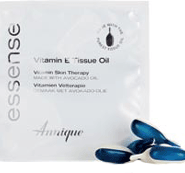 Annique Vitamin E Tissue Oil Capsules derived from the highest quality plant oils to ensure the oil has a high potency and absorbency. Vitamin E provides essential protection against sunburn, dehydration and ageing and can be used by all skin types. This tissue oil is an antioxidant which combats the ageing effects of the sun by replacing the vitamin E in cell walls which are destroyed by the sun – restructuring damaged cell walls. This product also claims to "dry" pimples overnight.
User reviews
excellent product for aging skin
Was this review helpful to you?
Annique Vitamin E Tissue Oil Capsules
I bought this product after trying it out at an Annique pamper party. I tend to have dry skin in winter and I bought this product as an overnight treatment for the upcoming dry winter months. I found that this product really hydrated my skin and solved my dry patches problem. This product comes in a pack of 15 capsules. You only use 4-6 drops of the product from the capsule, so one capsule should last you a good 2 months if you using it as a 3 times a week treatment like I am. The product is packaged in a capsule form because apparently it is the only way to ensure that the Vitamin E oil doesn't lose its useful properties.

It is very easy to use. All you do is prick the top end of the capsule with a clean pin. Squeeze 4-6 drops of the product on your hands and apply it on your face. The capsule closes quickly after you've pricked it so make sure you squeeze the product out immediately. I usually apply this 2-3 times a week after toner, and on the days I apply this I skip moisturiser. I would recommend to applying this product before bed as it does give your skin a slightly dewy look. When you wake up in the morning though, your skin is completely hydrated. I see a noticeable difference when I apply foundation in the morning and I find no dry patches at all. Such a relief! And I've also noticed that the pigmentation on my face has lightened. My mom commented that my "freckles" are lighter. The only thing I don't like about the product is that when you get close to the end of your capsule, it gets a bit hard squeezing the product out. I have to prick the capsule multiple times to get product out. And the smell of the product is very wheat-germy, which doesn't smell very pleasant on my nose. Luckily you don't really smell it after application.

Was this review helpful to you?