Annette's Beauty Salon
Hot
January 31, 2014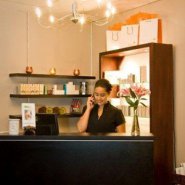 Product Info
Where to Buy:
73 St Georges Mall St Georges House 1st Floor Cape Town Western Cape
A very cosy salon in the middle of St. Georges Mall Cape Towm
User reviews
Excellent service guaranteed!
I love this Beauty Salon.

I've been a client of Annette's Beauty for more than 5 years now. Yesterday I had deep cleansing facial treatment done, which was heavenly. I must admit I also make use of alternative beauty salons and spa's due to specials and vouchers, however I will always return home!

They offer a wide variety of treatments, and stock Annique products as well.

Annette's is a very nooksie little salon with friendly and professional consultants.

The treatments are done with utmost care and sophistication.

They also make use of a loyalty card system, which is AWESOME, considering the prices of everything currently.

I'm extremely happy with Annette's Beauty Salon!
You guys Rock!


Was this review helpful to you?