The Body Shop: Drops of Youth - Bouncy Sleeping Mask
Hot
November 20, 2015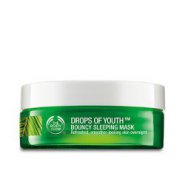 Product Info
Where to Buy
R190 available at The Body Shop
The Body Shop has introduced their first Sleeping Mask in South Africa. This amazing sleeping mask works on skin overnight, leaving skin feeling hydrated, soft and more plump from the first use.
User reviews
Disappointing, comedogenic
I was so excited to ty this product because of the amazing reviews but it did nothing for me. I liked the packaging and the texture of the product but it was NOT good for my skin. I am blessed with generally acne free skin however every time I used this mask I would break out. No product has done this to my skin. When I don't use it - no pimples. Wouldn't recommend or repurchase.
Product Recommendation
Would you recommend this product to someone else?
No
Would you repurchase this product?
No
Was this review helpful to you?
Amazing
Its well worth the spend and after trying it you know u spent well.
I can be a bit neglectful with a night time routine especially when im tired
This thick white fresh smelling gellish solid type mask is meant to be left on and sleep
My skins thirsty so most all except around my nose n chin area dissolved into my skin
Without massaging i woke to plump firm fresh glowing skin that seemed to work more cohesively with my skincare and makeup.
Im totally sold
Product Recommendation
Would you recommend this product to someone else?
Yes
Would you repurchase this product?
Yes
Was this review helpful to you?
Drops of Youth: Bouncy Sleeping Mask
Ever wondered where the term "beauty sleep" came from? Well… the term "beauty sleep" was made for this AMAZING Drops of Youth: Bouncy Sleeping Mask because it literally enhances skin and gives it a radiant glow, while you sleep, so all you need to go is rest your pretty little face, and let this mask do the work. Bloggers around the world rave about this "amazing" overnight face mask, which is said to make skin look and feel baby soft while The Body Shop claims their mask is "enriched with Edelweiss stem cells, and is designed to be left overnight for skin which looks bouncier and feels replenished".

So, after preparing you for a MUST HAVE product review, I'm going to have to talk about the biggest downfall first, before the actual review. The biggest downfall I experienced was after reading the most epic reviews and getting myself "excited" to purchase the mask, I went around Durban and Ballito looking for a Body Shop store which would have stock of this mask… but everybody was SOLD OUT! *insert your OMG emoticon with 100's of sad faces here* I did something adventurous though and added myself onto the waiting list… a month later, my Bouncy Sleeping Mask was here, and the love affair started brewing. This happens to be the most unique face mask on the market, mainly because the Bouncy Sleeping Mask has a unique, bouncy, memory shape texture… EXACTLY!! How crazy is that??

So let's start with what is in the box?
A heavy emerald green glass jar which contains 90ml of Bouncy Sleeping Mask
A small white scoop spoon

The Body Shop- Drops of Youth Bouncy Sleeping Mask is absolutely mind blowing, the face mask is white in colour, but applies transparent, the mask has a weird "jelly" like texture which is wobbly but firm, if you attempt to play around with the mask and mould it, it actually works! After spending (I'd say wasting) time playing around with the mask, I scooped a little with the spoon, rubbed the mixture in my palms and applied the face mask to my cleansed face.

Here are The Body Shop's tips on how to apply their Bouncy Sleeping Mask using their Bouncy Massage Technique:
1. Over The Rainbow Hands on forehead and arch out over the eyes to temples
2. Under The Clouds Massage under the eyes out towards the side of the ears
3. Quenching The Earth Massage outward with palms of hands, across the cheeks to the ears
4. Under The Sea Use sweeping upwards movements from the décolletage up the neck
5. Pitter Patter Use finger tips to lightly tap across the forehead.

It felt kind of weird, until it soaked into skin properly, which made my skin feel like it had been moisturised with a rich moisturiser. I got a little confused, because other bloggers around the world claimed the mask to be sticky, I didn't feel that way at all. After eight hours of thee most amazing beauty sleep, I woke up to soft, glowing skin. My skin felt incredible, I honestly can't explain it, plus my make up even set better without a primer.

This revolutionary face mask started taking over my night time beauty regime, so the ultimate question would be: would I recommend this product? How about HELL YES!!! Rush over to any The Body Store and grab a jar or two of this amazing overnight face mask, it is a life changing product and a must have in every beauty routine. I especially feel this product is worth the money you spend because the glass jar looks classy while the product is absolutely luxurious on skin.The Body Shop Bouncy Sleeping Mask retails at R199 and is available at The Body Store.
Product Recommendation
Would you recommend this product to someone else?
Yes
Would you repurchase this product?
Yes
Was this review helpful to you?