sandalwood and rose water face mask
Hot
July 18, 2014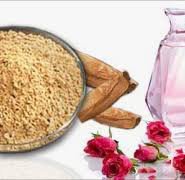 Product Info
Where to Buy:
right from your kitchen ;)
thin paste made out of sandalwood and rose water.
User reviews
Add a teeny bit of tumeric and lemon juice
Couldn't agree more with Sumaya!the variable we used was similar! Two tablespoons sandalwood powder, quarter teaspoon tumeric, 2 tablespoon lemon juice and enough rosewater to make a thickish paste! Apply , let dry and fresh bright glowing skin is yours! This mask also dries pimples and really brightens skin!
Was this review helpful to you?
D.I.Y face mask
women from the east have particulary glowing skin and this is partly thanks to a face mask made at home using sandalwood and rose water. two tablespoons of sandalwood and sufficient rose water to form a thin paste is all you will need .apply to face and neck and allow to dry.when removed your skin will feel refreshed ,brighter and suppple .
Was this review helpful to you?