Dermalogica AGE SMART multivitamin power recovery mask
Hot
May 21, 2013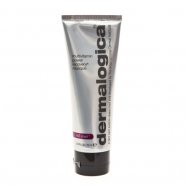 Product Info
Where to Buy
Aesthetic clinics and salons
Ultra-replenishing masque helps rescue stressed, aging skin. Powerful, concentrated vitamins A, C, E and F help skin recover from damage that leads to skin aging while enhancing barrier properties. Vitamin A helps increase elasticity and moisture content while antioxidant vitamins C and E help shield skin from Reactive Oxygen Species (free radicals). Nutrient-rich Algae Extract helps moisturize and soften skin, Pro-Vitamin B5 helps nourish damaged skin while botanical extracts of Licorice, Comfrey and Burdock soothe, calm and help decrease sensitivity. Apply this revitalizing masque after cleansing as an ultimate remedy for dulling, dry, dehydrated, lackluster, photodamaged skin and skin aging. Formulated without artificial fragrances and colors.
User reviews
Power Mask It Is
I love it, it works well for me, it give my skin a soothing feeling and I use the mask almost every week, I do my face and neck, its usually suggests you keep it on for 10 to 150 minutes but I keep it on for longer, makes me feel like it works better that way.
Product Recommendation
Would you recommend this product to someone else?
Yes
Would you repurchase this product?
Yes
Dermalogica AGE SMART multivitamin power recovery masque
One of my best buys - I've recently taken to the Dermalogica facials and as a result have bought a few products. This came with a small sized exfoliator and face spray so I felt I got my money's worth (though Dermalogica products are definitely expensive!).
I've been giving myself a weekly treatment - exfoliator followed by the mask which I leave on for a couple of hours until bedtime. It leaves the skin feeling so soft - I've even made my husband touch my face to show him how divine it is! I'm not sure about the photodamage or ageing thing - I never seem to see a difference in either. but my skin is definitely soft, hydrated and glow-y.
Highly recommend this product.
Dermalogica AGE SMART multivitamin power recovery masque
This is my little luxury and i must say i definitely saw an immediate difference in my skin after using this Masque.Its full of vitamin A,C,E and F .I truly recommend this for anybody.Your skin deserves it!